Biography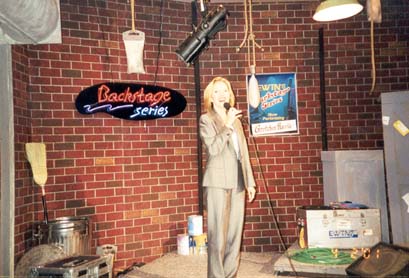 Appearance on EWTN's Backstage
Gretchen Harris, UCMVA's "Female Vocalist of the Year", is a Catholic singer/songwriter whose music expresses her love for God and Church. Songs from her seven CDs can be heard on Catholic and Christian radio stations in the United States and many other countries, in addition to the worldwide radio outreach of EWTN.

The latest music addition to the catalog is "Blessed Are You: Songs You Love to Sing," a CD full of beautiful well-known songs from Mass and beyond, including "Mary, Did You Know," "On Eagles Wings," "You Are Mine" and "I Can Only Imagine." Three very special vocalists sing duets with Gretchen on this album, namely Trevor Thomson, Robert Kochis, and Gretchen's daughter Amy. This mother-daughter duo has delighted audiences by singing together in the U.S., internationally, and on Catholic television.

"SING to the LORD," a CD full of beautiful songs sung TO God... gorgeous settings of well-known and deeply loved tunes that touch the soul and lift the heart, including "Prayer of St. Francis," "You Are Near," "Shepherd Me, O God," and "Breathe."

This album also features three very special duets, with Matt Maher, Robert Kochis, and Carl Herrgesell sharing their exquisite vocal talents with Gretchen. Many superb studio players from Nashville and L.A. provide excellent musicianship as support for this CD honoring Our Lord God!

Gretchen's prayer CD, THE ROSARY, has all four sets of Mysteries, including the Luminous, on 1 CD. It is led by 4 different priests with beautiful background music. Each complete rosary is 18 minutes of meditational prayer.

CHRISTMAS JOY, combines traditional favorites with new songs of the holidays. This is a delightful journey for the soul as we travel through the Christmas season with the joy that it holds for our hearts.

HOPE FOR TOMORROW was the "Pop/Contemporary Album of the Year" winner through the United Catholic Music & Video Assn. This is a soothing collection of contemporary music, with comforting lyrics to help people cope under extremely trying circumstances. It has a message of hope in God's presence, even in the darkest times.

SIGN OF LOVE contains many original songs, with Gretchen's lyrics expressing her simple and honest love of the Lord. This contemporary album has the talents of many top musicians in Los Angeles. The music has been moving and inspiring lives with it's full pop sound as well as the tender, beautiful ballads that facilitate prayer and touch the heart.

SING OF MARY, nominated for "Praise and Worship Album of the Year," is a beautiful collection of Marian favorites. This album includes songs from ages ago to new contemporary favorites. Gretchen has a special devotion to the Blessed Mother, and on a pilgrimage was blessed to receive a special sign to sing to Mary. She recorded this album in gratitude and love for her.

Recent television appearances have been in Boston, San Antonio, Ohio, and includes a half hour concert showcase on EWTN's BACKSTAGE and performances on Dana's series WE ARE ONE BODY.

Dana chose Gretchen to sing with her and Mark Girardin on the recording and the video of the moving pro-life song "THIS IS MY BODY." This recording was honored with Unity Awards for "Contemporary Song of the Year" and "Music Video of the Year." It's one of Gretchen's deepest honors to take part in that song in respect for Life.

Gretchen ministers through concerts, speaking engagements, and radio programs, performing most recently in Italy, Germany, Canada, Brazil, Florida, Washington DC, Nashville, and her hometown of Los Angeles.

In addition to her vocation as wife and mother of three children, Gretchen enjoys reaching out to others through her music ministry. She is busy ministering with her music, and she would love to come sing at your church!

---
Gretchen's CDs

The Chaplet of Divine Mercy - For Life!
New Release for 2020! Pray the Chaplet of Divine Mercy with Gretchen and Fr. Frank Pavone, National Director of Priests for Life. More

Songs of Divine Mercy
Here is an inspiring collection of vocal duets celebrating God's Divine Mercy, which He so generously pours out on us! CD includes "Sacred Silence," "Blessings," "Amazing Grace," and more for a total of ten songs to inspire your day. More

Blessed Are You: Songs You Love to Sing
This seventh CD from UCMVA's "Female Vocalist of the Year" will warm your heart as you listen to and sing along with songs you already know and love. Gretchen's voice will touch you as she sings with meaning, tenderness, and love for the Lord! More
Contemporary Christian. Excellent CD of prayerful songs of praise, petition, and thanksgiving... Peaceful, pure... Many songs are well-known and loved already. Sixth release by Unity Award winning recording artist Gretchen Harris... More
This is the fifth album from Gretchen Harris. It includes all four sets of Mysteries, including the Luminous, recited on 1 CD. It is led by 4 different priests with beautiful background music. Each complete rosary is 18 minutes of meditational prayer. More
Gretchen's third solo album, with soothing music for the soul. This album won the UCMVA Unity Award for Pop/Contemporary Album of the Year, 2002. More

Sing of Mary
Second solo album, dedicated to the Blessed Mother. Contains eleven favorite Marian songs. More
Contemporary Christian Soft Rock and Pop that you won't be able to tear yourself away from. First solo album, produced by David Harris. More
The fourth album from Gretchen Harris is "Christmas Joy." It combines traditional favorites with new songs of the holidays. This is a delightful journey for the soul, as we travel through the Christmas season and the joy that it holds for our hearts. More